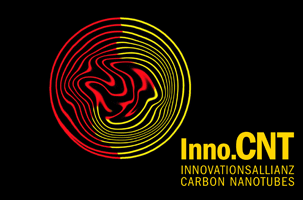 CarboAir – Innovation Alliance Carbon Nanotubes: Innovation for industry and society
The CarboAir project concentrates on innovative applications for the aeronautical industry and wind power plants. The project is making important contributions to the use of CNT in lightweight applications with high cyclical demands and tribological stress and will improve impact-resistance and flexural strength. In general terms, the project aims to improve the mechanical properties of epoxy resins for improved matrix stability and rigidity in composite materials, which will translate into higher fiber-parallel pressure-resistance and interlaminar shearing strength. The application project investigates five applications from the air, space, energy, security, and medical technology sector.
Further Information on the project CarboAir and the Inno.CNT Alliance can be accessed via www.inno-cnt.de/en/
CarboAir Project Data Sheet (In German) (PDF, 200 KB).
Contact
Inno.CNT office
PO box 11 08 31
40508 Düsseldorf, Germany
Phone 01805-133 422 (0,14 €/min. from a German landline. Other providers' charges may vary.)
Email: info@inno-cnt.de
---
Project Lead
Partner
---
Duration : 01.02.2009 – 31.01.2012
---