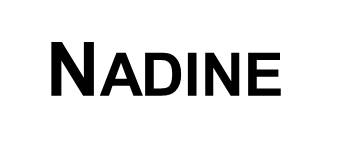 NADINE – Nanomodified diamond electrodes for inline disinfection in different fields of application
The project NADINE aimed at developing particularly efficient nano-modified diamond electrodes for use in different applications under realistic conditions. These methods should improve sustainably the conditions of human health and environment and increase considerably the reuse of water resources.
All pilot lines applications clearly demonstrated an efficient disinfecting effect. With the usage of nano-modified diamond electrodes, the efficiency could be increased significantly. However, for continuous operation an integrated descaling process is required.
Achieved project results:
Nano-modified diamond electrodes with specific electrochemical behaviour were developed
Nano-modified diamond electrodes form negligible amounts of organic electrolysis by-products such as trihalomethanes (THMs)
Ratio of by-products to disinfectant was significantly improved by a factor of 2.5 compared to the initial situation, which is sufficient for domestic hot water applications. For the disinfection of drinking water, by-product formation should be further reduced.
Electrolytic cells were further developed of to increase efficiency (RF of 5 with ~ 7000 As/m3 or approximately 0.04 kWh/m3), which correlates to an improvement by a factor of 2.5 – 10
Efficient electrolysis cells and inline disinfection processes were developed
Degradation of anthropogenic trace substances could be verified
---
Grant Number
:
BMBF - FKZ 03X0087
Duration
:
01.05.2010 - 30.04.2013 (extended to 31.12.2013)
---
Project Lead
Dr. Matthias Fryda, CONDIAS GmbH
Project Partners
DVGW German Technical and Scientific Association for Gas and Water
Fraunhofer Institute for Surface Engineering and Thin Films (IST)
Fraunhofer Institute for Ceramic Technologies and Systems (IKTS)
eins Energie in Sachsen GmbH & Co. (former Stadtwerke Chemnitz AG)
Technische Universitaet Muenchen (TUM)
---
Publications
2014
Heim C., Ureña De Vivanco M., Rajab M., Müller E., Letzel T., Helmreich B. (2014). Rapid inactivation of waterborne bacteria using boron-doped diamond electrodes. Int J Environ Sci Technol, 1-10.
2013
Rajab M., Heim C., Greco G., Helmreich B., Letzel T. (2013). Removal of Sulfamethoxazole from Wastewater Treatment Plant Effluents by a Boron-doped Diamond Electrode. International Journal of Environmental Pollution and Solutions, 1(3): 88-97. DOI: 10.7726/ijeps.2013.1008
Ureña De Vivanco M., Rajab M., Heim C., Letzel T., Helmreich B. (2013). Setup and Energetic Considerations for Three Advanced Oxidation Reactors Treating Organic Compounds.Chem Eng Technol, 36(2): 355-361.
2011
Heim C., Ureña de Vivanco M., Rajab M., Glas K., Horn H., Helmreich B., Letzel T. (2011). Ozone II: Characterization of In Situ Ozone Generation Using Diamond Electrodes. Brewing Science 64 (Sept/Oct 2011), 83-88.
All available final scientific reports of the NADINE consortium can be accessed via the TIB Hannover website
https://www.tib.eu/en/
Condias GmbH (2014). Nanomodifizierte Diamantelektroden für Inlinedesinfektionsprozesse in unterschiedlichen Einsatzgebieten : Herstellung und Optimierung nanomodifizierter Diamantelektroden und Elektrolysezellen für Inlinedesinfektionsprozesse ; Schlussbericht zu dem Projekt: NADINE. Behrendt-Fryda, Barbara; Condias GmbH, FKZ 03X0087A; TIB Hannover.
2014
Rajab M., Heim C., Letzel T., Helmreich B. (2014). Electrochemical disinfection combined with micropollutant degradation using a boron-doped diamond electrode. EcoSTP-Konferenz, 23-27.06.2014, Verona, Italien. [Vortrag]
2013
Rajab M., Heim C., Letzel T., Helmreich B. (2013). Electrochemical degradation of the emerging contaminant sulfamethoxazole in secondary effluent using a boron-doped diamond electrode. Micropol & Ecohazard 2013, 16.-20.06.2013, Zürich, Schweiz. [Poster]
Rajab M., Urena, M., Heim, C., Letzel, T., Helmreich, B. (2013). Nanomodifizierte bordotierte Diamantelektroden und ihr Effekt auf die Bildung von Desinfektionsnebenprodukten. 3. Clustertreffen NanoCare und NanoNature, 14.-15.01.2013., Frankfurt/Main, Deutschland. [Poster]
Becker M., Deutschmann A., Saft F., Lehmann E., Sundheim A.-K., Warnck S. (2013). NADINE - Anwendung von nanomodifizierten Diamantelektroden für Inlinedesinfektionsprozesse. 3. Clustertreffen NanoCare und NanoNature, 14.-15.01.2013., Frankfurt/Main, Deutschland. [Poster]
2012
Letzel T., Ureña de Vivanco M., Scheerle R. K. (2012). Studying oxidative and reductive reactions using a potentiostat coupled to MS: Applications in water research and enzymology. 9. Langenauer Wasserforum, 12.-13.11.2012, Langenau, Deutschland. [Poster]
Ureña de Vivanco M., Rajab M., Helmreich B., Letzel T. (2012). Massenspektrometrischer Vergleich der Abbauwege des Sulfamethoxazol bei verschiedenen AOPs. 9. Langenauer Wasserforum, 12.-13.11.2012, Langenau, Deutschland. [Poster]
Ureña de Vivanco M., Rajab M., Helmreich B., Letzel T. (2012). Oxidation von Carbamazepin mit Hilfe einer bordotierten Diamantelektrode, Elektrochemie-Massenspektrometrie, UV/H2O2 oder der Photo-Fenton-Reaktion: Massenspektrometrische Studien der Abbauprodukte. 9. Langenauer Wasserforum, 12.-13.11.2012, Langenau, Deutschland. [Poster]
Ureña de Vivanco M., Rajab M., Helmreich B., Letzel T. (2012). Oxidation von Carbamazepin mit Hilfe einer bordotierten Diamantelektrode, Elektrochemie-Massenspektrometrie, UV/H2O2 oder der Photo-Fenton-Reaktion: Massenspektrometrische Studien der Abbauprodukte. Kolloquium LC-MS in der Umweltanalytik 2012, 11.-13.06.2012, Leipzig, Deutschland. [Poster]
Helmreich B. (2012). Disinfection and degradation of pharmaceuticals in different water matrices. 11. Workshop on the application of diamond electrodes – CONDIAS, 06.09.2012, Itzehoe, Deutschland. [Vortrag].
Rajab M., Ureña de Vivanco M., Heim C., Letzel T., Helmreich B. (2012). The Applicability of a Boron-Doped Diamond Electrode for Water Disinfection. 6th IWA Specialist Conference: Oxidation Technologies for Water and Wastewater Treatment, 07.-09.05.2012, Goslar, Deutschland. [Poster]
Rajab M. (2012). The Applicability of a Boron-Doped Diamond Electrode for Water Disinfection. 6th IWA Specialist Conference: Oxidation Technologies for Water and Wastewater Treatment, 07.-09.05.2012, Goslar, Deutschland. [Vortrag]
Ureña de Vivanco M., Letzel T., Helmreich B. (2012). Carbamazepine Electrochemical Degradation by a Boron-Doped Diamond Electrode in Various Waters. 6th IWA Specialist Conference: Oxidation Technologies for Water and Wastewater Treatment, 07.-09.05.2012, Goslar, Deutschland. [Poster]
Ureña de Vivanco M. (2012). Carbamazepine Electrochemical Degradation by a Boron-Doped Diamond Electrode in Various Waters. 6th IWA Specialist Conference: Oxidation Technologies for Water and Wastewater Treatment, 07.-09.05.2012, Goslar, Deutschland. [Vortrag]
Helmreich B. (2012). Elimination of pharmaceutical residues from wastewater as a future requirement in wastewater treatment processes. Exploratory-Workshop on an Integrated Approach to Water Research and Technology Development, 03.-04.05.2012, München, Deutschland. [Vortrag]
Helmreich B., Ureña de Vivanco M., Rajab M., Glas K., Heim C., Letzel T. (2012). Abbau von Carbamazepin bei gleichzeitiger Inaktivierung von Escherichia coli mit einer bordotierten Diamantelektrode. 2. Clustertreffen NanoCare und NanoNature, 12.-14.03.2012, Frankfurt/Main, Deutschland. [Poster]
Becker M., Deutschmann A., Schwarzkopf S., Sundheim A.-K., Warnck S. (2012). NADINE - Anwendung von nanomodifizierten Diamantelektroden für Inlinedesinfektionsprozesse. 2. Clustertreffen NanoCare und NanoNature, 12.-14.03.2012, Frankfurt/Main, Deutschland. [Poster]
Fryda M., Warnck, S. (2012). NADINE - Organisation des Projektes und der Prozesse. 2. Clustertreffen NanoCare und NanoNature, 12.-14.03.2012, Frankfurt/Main, Deutschland. [Poster]
Letzel T., Ureña de Vivanco M., Scheerle R. (2012). Studying Oxidative and Reductive Reactions Using a Potentiostat Coupled To MS: Applications in Water Research and Enzymology. Gemeinschaftliche Tagung der Polnischen Gesellschaft für Massenspektrometrie mit der 45. DGMS-Jahrestagung, 04.-07.03.2012, Poznan, Polen. [Poster]
2011
Letzel T., Ureña de Vivanco M., Helmreich B., Horn H. (2011). Pos/Neg-Switching LC-MS Detection of Pharmaceutical Degradation Products from Diamond Electrode Treatment of Water and Wastewater. 8. Langenauer Wasserforum; 07.-08.11.2011, Langenau, Deutschland. [Poster]
Heim C., Ureña de Vivanco M., Rajab M., Helmreich B., Glas K., Letzel T., Horn H., Parlar H. (2011). Desinfektion von Wasser und Abwasser unter Einsatz einer Diamantelektrode. 5. Wasserseminar für die Getränke- und Lebensmittelindustrie, 15.-16.09.2011, Waidring, Deutschland. [Poster]
Heim C., Ureña de Vivanco M., Rajab M., Buscham T., Glas K., Horn H., Parlar H. (2011). Einsatz von ozonhaltigem Wasser zur Desinfektion von Brauereianlagen. 5. Wasserseminar für die Getränke- und Lebensmittelindustrie, 15.-16.09.2011, Waidring, Deutschland. [Poster]
Letzel T., Ureña de Vivanco M., Helmreich B., Horn H. (2011). Pos/Neg-Switching LC-MS Detection of Pharmaceutical Degradation Products from Diamond Electrode Treatment of Water and Wastewater. 5. Wasserseminar für die Getränke- und Lebensmittelindustrie, 15.-16.09.2011, Waidring, Deutschland. [Poster]
Ureña de Vivanco M. (2011). Abbau von Arzneimittelwirkstoffen und Mikroorganismen durch in-situ erzeugtes Ozon. 5. Wasserseminar für die Getränke- und Lebensmittelindustrie, 15.-16.09.2011, Waidring, Deutschland. [Vortrag]
Heim C., Ureña de Vivanco M., Rajab M., Helmreich B., Glas K., Letzel T., Horn H. (2011). Einsatz einer Diamantelektrode zur Wasser- und Abwasserdesinfektion. GDCh Wissenschaftsforum Chemie, 04.-07.09.2011, Bremen, Deutschland. [Poster]
Heim C., Ureña de Vivanco M. (2011). Application of a Diamond Electrode for Water and Wastewater Disinfection. GDCh Wissenschaftsforum Chemie, 04.-07.09.2011, Bremen, Deutschland. [Vortrag]
Ureña de Vivanco M., Heim C., Schübel K., Letzel T., Helmreich B., Horn H. (2011). Oxidation of Pharmaceutical Substances with Nano-Modified Diamond Electrodes. GDCh Wissenschaftsforum Chemie, 04.-07.09.2011, Bremen, Deutschland. [Poster]
Letzel T., Ureña de Vivanco M., Helmreich B., Horn H. (2011). Pos/Neg-Switching LC-MS Detection of Pharmaceutical Degradation Products from Diamond Electrode Treatment of Water and Wastewater. ITP-Tagung, 28-31.08.2011, Tbilisi, Georgien. [Poster]
Ureña de Vivanco M., Letzel T., Helmreich, B. (2011). Die Diamantelektrode: Wie ein Isolator zur erfolgsversprechenden elektrochemischen Methode für die Abwasserreinigung werden kann. ANAKON-Tagung, 22.-25.03.2011, Zürich, Schweiz. [Poster]
Ureña de Vivanco M. (2011). Desinfektion und Abbau von persistenten Arzneimittelwirkstoffen mit Hilfe nanomodifizierter Diamantelektroden. CHEMLAB, 14.04.2011, Weihenstephan, Deutschland. [Vortrag]
Helmreich B., Ureña de Vivanco M., Letzel T., Heim C., Glas K., Horn H. (2011). Abbau von Arzneimittelwirkstoffen mit einer Diamantelektrode. 1. Clustertreffen der NanoCare- und NanoNature-Projekte; 10.-11.03.2011, Frankfurt/Main, Deutschland. [Poster]
Becker M., Zeitlmeir M., Saft F., Schwarzkopf S., Sundheim A.-K., Warnck S. (2011). NADINE - Anwendungsszenarien von nanomodifizierten Diamantelektroden für Inlinedesinfektionsprozesse. 1. Clustertreffen der NanoCare- und NanoNature-Projekte; 10.-11.03.2011, Frankfurt/Main, Deutschland. [Poster]