The term perovskite summarizes a group of materials that derives from a mineral, the perovskite. The various perovskites have a similar structure, that is, atoms and molecules are arranged similarly. However, they are composed of different atoms or molecules.
This article will mainly discuss perovskites for solar cells, although there are many others.
How can I come into contact with this material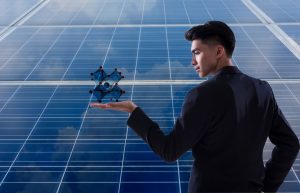 Because solar cell perovskites are being researched in laboratories ( Status 2022), individuals do not come into contact with these materials at this time. Before solar cells perovskites are launched on the market, it must be ensured that they will not release toxic substances to humans and the environment. However, the perovskites currently being developed release the toxic heavy metals tin and lead, respectively, when they come into contact with water.
One possible way to prevent the release of lead and tin from solar cell perovskites would be to safely encapsulate them. This could be done by encasing them in glass. However, there are general safety concerns here, because if the glass is damaged, a release of the heavy metals would again be possible. The problem could be solved if the heavy metals in the solar cell perovskites were replaced by harmless elements or compounds, or if the release of toxic components were impossible.
Is there any risk from this material to humans and the environment?
From solar cells perovskites containing tin or lead, the heavy metals tin or lead could be dissolved out. Both heavy metals are toxic to humans and environmental organisms and in some cases are also accumulated in plants, animals and fungi. Therefore, a release of the heavy metals must be prevented. However, a hazard currently exists only theoretically, as these solar cells are not sold for installation on rooftops, so they are not on the market (as of 2022).
If a production or sale of these solar cells containing tin or lead is realized in the future, it must be ensured that no heavy metals are released into the environment or to humans.
Conclusion
Solar cells perovskites are still research materials in 2022. Studies on the toxicity of such materials are useful. There is no danger for private persons at this time, because one cannot buy perovskite solar cells, so one does not come into contact with this material.
By the way
Perovskites could be the most abundant minerals on Earth, because it is assumed that a whole layer of the Earth's crust (mantle) is made of perovskite.
The occurrence of perovskites is not limited to the Earth: they have also been found in meteorites
---