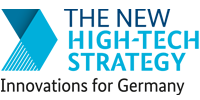 The German Federal Ministry of Education and Research is funding research and development projects on the topic of "Safe handling of synthetic nanoparticles - Studying the effects on humans and the environment - Nano Care" within the framework programs "Materials Innovations for Industry and Society - WING" (2004-2014) and "From Material to Innovation" (2015-2025).
Nanotechnology provides important impulses to solve global challenges. Potential market segments for nanotechnology are for example in medical, environmental and energy sector.The growing economic impact of nanotechnology and the increasing use of synthetic nanoparticles and nanomaterials in products require accurate knowledge on the interactions of applied nanoparticles and nanomaterials with the environment. To use the potential of nanotechnology best while ensuring the responsible handling with nanomaterials, are targets of the national concept of the new Hightech Strategy and the German Federal Government's "Action Plan Nanotechnology 2020".
This funding initiative is part of the new Hightech Strategy of the German Federal government. It aims at innovation and growth of the industry in Germany. A close cooperation between companies and research institutes in the university and non-university sector, the involvement especially the contributions of small and medium-sized enterprises (SMEs) as well as the exploitation of the project results in Germany is of outstanding importance.
The funding initiative ties in with the previous actions "Impact of engineered nanomaterials to humans - NanoCare" and "Nanotechnologies for environmental protection - benefits and impacts (NanoNature)" and builds on the results and experiences from these activities (see also under Completed Projects).